Have you ever felt self-conscious about your smile? Do you always smile with your mouth closed, or cover your mouth when you are talking? Smiling is one of the most important ways of communicating non-verbally with each other, and being unable to smile can have an impact on your self-esteem and general wellbeing.
Luckily, cosmetic dentistry in Loughton can help you achieve great oral health and the smile you always wanted. At Forest Dental, you can choose from a variety of treatments to enhance your smile, including white fillings, and porcelain veneers as well as teeth whitening. Our experienced dentists are dedicated to helping you fix your dental problems easily, effectively and with as little pain as possible.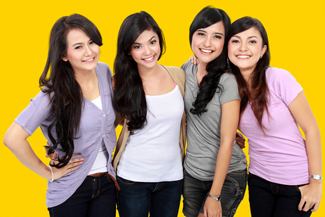 White fillings
Providing a more natural alternative to traditional metal fillings, white or tooth-coloured fillings are long lasting and available in a range of shades that can be matched to the natural colour of your teeth. These restorations are usually made of composite resin and are bonded to the damaged area of a tooth.
White fillings are completed in one dental appointment. Firstly, we numb the area so that the treatment is comfortable and painless. We will then remove the portion of your tooth that has been damaged and replace the missing part with a white filling that will stay securely in place once hardened with the aid of a bright blue light.
Porcelain veneers
Porcelain veneers are thin, porcelain shells that cover the front surface your teeth to make them look better. Whether you have cracked, chipped, worn, spaced or crowded teeth, porcelain veneers are very versatile because they offer a convenient all-in-one solution that can solve most of your dental problems at once. Because porcelain used in dental veneers imitates the translucent look of your natural teeth, you can expect a more natural smile.
Teeth whitening
At Forest Dental, we are delighted to offer teeth whitening to patients who wish to brighten their teeth by several shades. You can choose between home whitening with custom-made, bleaching trays or Zoom laser whitening to have your teeth whitened up to nine shades in less than an hour at the dentist's chair.