Donna Gold
Whitening plus Porcelain Crown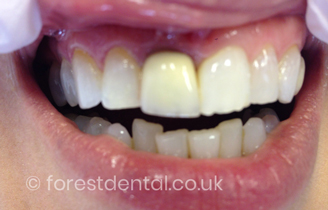 Before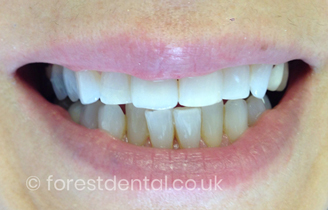 After
Donna was recommended by her partner as she was unhappy with her front crown which did not match her own teeth in shape or colour. Her other incisors were also chipped and worn. We decided to whiten all her teeth and then proceeded to replace the old bonded crown with a lava all porcelain crown. We finished off the case with anterior cosmetic re contouring. The result was a much happier Donna!
Michelle
Replacing Old Stained Fillings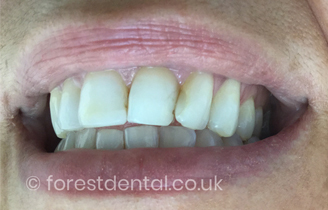 Before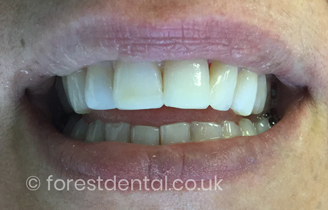 After
Michelle wanted to improve her smile prior to her wedding. She did not like her stained white fillings and felt her upper left incisor was in standing. We replaced the old stained fillings with a newer material which completely blended in with her natural enamel and we built up a composite veneer on upper left incisor to straighten its position. Sufficient to say we had a happy smiling bride.
Rachel Harvey
Whitening plus Cfast Braces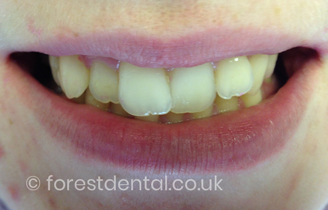 Before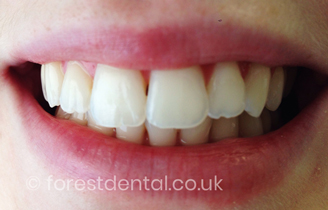 After
Rachael attended Forest Dental because she was unhappy with her front teeth. She explained that she had worn braces as a teenager but did not wear her retainers so that now her teeth were even more crooked than before. We used the c-fast 6 month brace system to gently straighten her teeth then finished with teeth whitening. Rachael was delighted with the result which improved her confidence greatly.
Shiela
Whitening plus New Bridge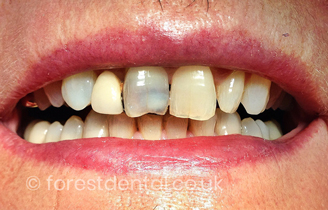 Before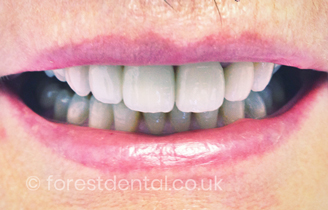 After
Shiela presented to us on the recommendation of her husband as she was unhappy with the appearance of her front teeth. She had a grey/dead front tooth and an old metal bonded type of bridge. We decided to pre-whiten the teeth and performed a root canal treatment on the dead front tooth. We then replaced the old bridge work with new porcelain bridgework. We were very pleased with the transformation in her smile and confidence.
Toby Acton
Whitening plus Porcelain Crown
Before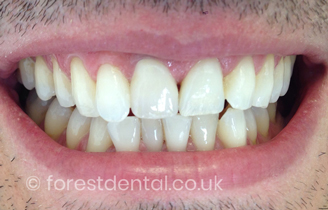 After
Toby presented to us complaining that he had a very yellow front tooth which had received a root canal treatment over 25 years ago and now was infected again. After careful consideration we decided to re-do the root canal treatment and drained the infection. We then whitened his teeth at Toby's request and placed a Lava all porcelain crown which was custom shade matched at our lab. Toby and the forest dental team were delighted with the result.
N E
Whitening plus Mini Smile Makeover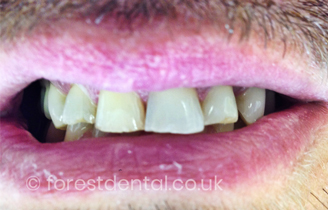 Before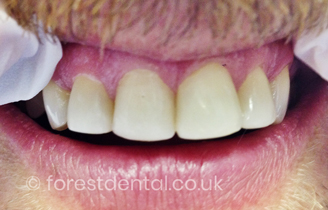 After
Mr E attended Forest Dental for a cosmetic improvement of his front teeth but was very nervous of dentists and also suffered with a severe gag reflex. The patient did not like the colour of his teeth and the fact that due to his grinding his teeth during his sleep they had become worn down and chipped. We carried out Zoom teeth whitening and built up the front 4 teeth with composite veneers. The treatment was carried out over 2 evening visits during which the patient did not require any drilling of his natural tooth structure or any injections. Fortunately as he was made to feel calm and relaxed he did not suffer from his gag reflex during the appointment and he was really pleased with the end result.
Debbie Baxter
Whitening plus Mini Smile Makeover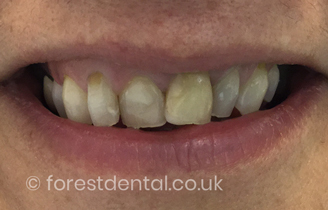 Before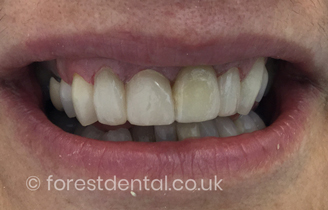 After
Debbie had always been unhappy with the shape and colour of her teeth and finally found the courage to fix her smile. She wanted a simple treatment plan as she had already been to a west London dentist and been quoted over 10,000 pounds! We performed home teeth whitening and asked our lab to wax up a model of her teeth so she could see the exact shape of her new teeth. We then used our Forest Dental mini smile makeover technique and placed 4 upper composite veneers to give her the exact look she had pre-approved from the wax up. Debbie was so overjoyed at the result and explained that for her this treatment had been "life changing."
Ryan Eldridge
Whitening plus Mini Smile Makeover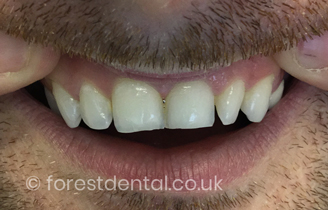 Before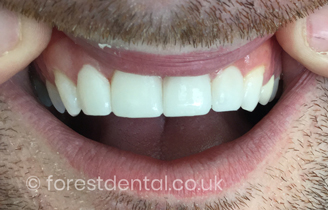 After
Ryan attended Forest Dental upon the recommendation of his aunt as he was unhappy with the shape and colour of his teeth. He had attended a Harley Street dentist and been presented with an expensive treatment plan but he wanted a more cost effective option. We proceeded to whiten his teeth using Day White and then built up 4 composite veneers to give him our signature Forest Dental mini makeover. Ryan was so pleased with the result he has since gone on to have further cosmetic improvements on his lower teeth!
P B
Whitening plus Mini Smile Makeover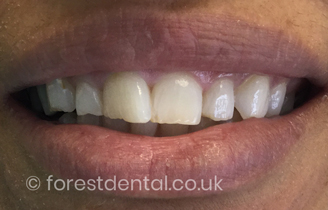 Before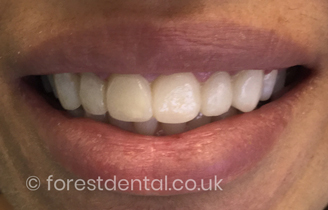 After
Mrs B attended as she was unhappy with her front teeth which had become very worn down due to her grinding her teeth during her sleep. After full discussions we went ahead with teeth whitening and then our signature forest dental mini makeover. We placed composite veneers on her front 6 teeth and made her a night guard to protect her teeth from further damage. Mrs B explained that she had not realised just how much her teeth had worn away until we rebuilt them up to their original height. She was then able to jet off on holiday confident to be able to smile fully in her holiday snaps!
Andy Wilson
Whitening plus Mini Smile Makeover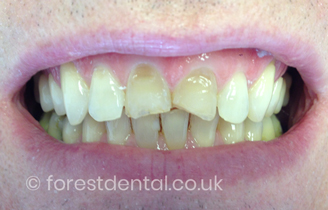 Before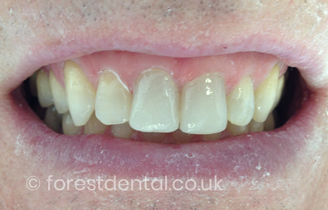 After
Andy attended Forest Dental because he was not happy with the appearance of his front teeth. We whitened all his teeth and built up his front two teeth with composite veneers. The result has transformed his smile while at the same time not damaging any of the precious enamel. A nice example of minimally invasive cosmetic dentistry which we at Forest Dental are proud of.