New uniform; pencil case; notebooks; PE kit – as your children head back to school, there's a long list of things to remember. As dentists, we have one more item we believe it is vital to add to that list – a sports gum shield.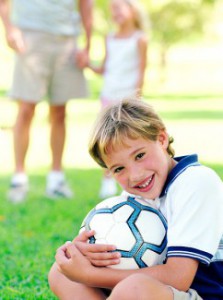 Many cases of accidental tooth loss are caused by sports injuries, and the majority of these could have been avoided by wearing a sports gum shield. Losing a tooth is a traumatic experience and, while dentists can sometimes replace the tooth in the socket if you get to the dental practice quickly enough, it is often necessary to replace a lost tooth with a bridge or other artificial restoration.
Sports accidents are also often the cause of broken or chipped teeth, which again may need extensive restoration through crowns, veneers or composite bonding. Wearing a gum shield can prevent the unnecessary pain and discomfort of a sports injury to the teeth, as well as the cost of restorations, and can even help to prevent broken and dislocated jaws.
When should you wear a sports mouth guard?
Sports mouth guards should be worn during all contact sports, such as boxing, martial arts, rugby and American football, and for all sports involving fast-moving objects – hockey, cricket and football, for example.
Why you should get a mouth guard from your dentist
Unlike mouth guards that can be bought online, a mouth guard made by your dentist will fit your teeth and gums exactly. This improves the level of protection provided, and can help to prevent injury to the jaw, the neck and even to the brain – helping to prevent concussion.
Your dentist will take impressions of your teeth and will send these off to the laboratory for your mouth guard to be made. When it's ready you'll be called back to the practice to check that it fits properly. You should bring your mouth guard with your to your dental check-ups to ensure it remains in prime condition.