We understand that you will always have concerns about the health of your family; this is especially true of parents of young children as every parent wants to try to do their best for their children. One of the health areas that many parents are very concerned about is oral health, as we all want children to grow up with strong and healthy teeth and gums that will last them an entire lifetime.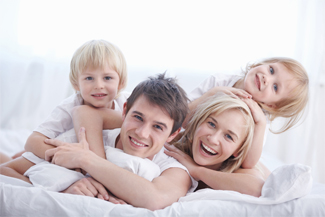 You may have taught your child how to clean their teeth correctly twice a day, once in the morning before going to school and once in the evening before they head to bed. However, we all know how forgetful children can be, and this creates the need for us to constantly check whether they are doing what is right for the health of their teeth and gums. Another thing you can do to encourage your child to look after their teeth and gums is to register them with a dental practice from an early age; that way, you can access professional help and treatment should your child need it.
At Forest Dental, we understand the challenges parents may face when trying to get their children to engage with good oral hygiene routines; for this reason, we want to invite you to make us your ally in the fight for the oral health of your child. Let's work together to ensure your child grows up with healthy teeth and gums.
Let's make your child feel comfortable
By working together with you, we are certain we can find ways to make your child feel safe and comfortable when they make their first visit to Forest Dental. All our staff are trained to communicate in ways that children understand and that will make them feel at ease.
We know that your child may find a dental practice to be a bit of a strange place on their first visit, and this may make them reluctant to engage with the staff at first, so we will take the time to help them understand what we do and how it will help them. We have no problem allowing your child to have the time to feel totally at ease before engaging with our dental staff, as we want them to willingly engage with us by understanding that we are here to help them, not hurt them.
One way to help your child feel at ease is to allow them to see our dentist examining their parents' teeth. If they see their parents happy and comfortable in the dentist's chair, they may feel at ease about sitting in this chair themselves. We all recognise that children learn by copying the actions of their parents; this is a technique that can be used to help your child engage with our dentist.
Helping you to help your child
At Forest Dental, we are proud of our track record of helping parents to get their children to engage with dental health and oral hygiene, and now we want to help you. If you have any concerns or questions, please feel free to call us for a chat. We are a family-friendly, gentle dentist in Loughton, Essex, with a team dedicated to offering the very best dental health.