At Forest Dental in Loughton, we want to help you achieve the smile of your dreams. If you are unhappy with your smile but remain unsure which treatment or combination of treatments is best for you, one of our full smile makeovers could help you.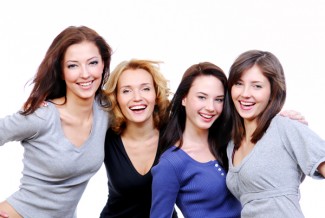 Our experienced cosmetic dentists will help you to assess your smile and, after listening to what results you would like to see after treatment, will recommend the best options to get you your ideal smile. With the use of photographs and X-rays, we will discuss all treatment options, including projected costs and timescales with you, before starting any treatment. With the aid of computer software, we can even show you exactly how your new smile will look after treatment.
Perhaps you would like your teeth to be straighter but also brighter? In this case one of our discreet orthodontic solutions, complemented by a session of teeth whitening, may be the best course of treatment. If your front teeth are chipped or discoloured, porcelain veneers may be the perfect solution.
Mini smile makeover
At Forest Dental, our mini smile makeovers use a procedure called composite bonding. It can be completed in as little as one day and is among the easiest and least invasive of all cosmetic dental procedures.
Bonding is the application of a tooth colored resin called composite to change the shape or colour of your teeth. Composite bonding can repair chips, fractures, decay and discolored teeth. Unlike porcelain veneers, which are manufactured in a laboratory and require your dentist to remove a significant amount of healthy tooth structure, composites can be applied in a single visit with minimal tooth removal.
Why choose Forest Dental?
Forest Dental only use the latest technologies and techniques for your smile makeover needs. Our team are focused on continually improving their skills and knowledge, to provide you with the best available treatment.
Our smile makeover consultations are completely free to all our patients, with no obligation or pressure to have any unwanted treatments. We also offer finance options. If your treatment costs more than £400, we are happy to offer 0% finance options, to help spread the cost of your smile makeover.